Ministers should not be the proverbial "mystery man in the black gown" that all the children of the church fear and none of the adults really know.
Pastors are real people just like you.  I am writing this page so you can get to know me on a more personal level.
Family
I come from European, Irish, British, and Scandavian stock. Most of my ancestors were Roman Catholic, but I am doing my best to chart a better course for our future heritage.
My wife Kelly and I have six children and we live in the rolling hills just outside of Reedsburg.
My office is in the home, my wife educates our children at the dining room table, and there are always a bunch of chickens waiting at the backdoor for an occasional treat.
Reading
As a teacher in the church, I spend a lot of my time reading books written by men who are smarter than I am. All my favorite books were written long before I was born.
Besides scripture, commentaries, and theology books, I enjoy reading books about philosophy, history, and statecraft.
If you ask me a complicated question, don't be surprised if I hand you a book as the beginning of my answer.
Writing
I try not to be word-y, but I am something of a word-smith. I majored in English and wanted to become a poet. Instead, I became a teacher.
I have started a few books over the years, but simply cannot find the time to complete them. Maybe someday.
Most of my writing is work-related and some of it is extremely boring (e.g., maintaining the minute books of our presbytery). Nevertheless, a true word-smith can find satisfaction even in recording procedural motions.
Music
Music has always been a central part of my life. As a child, I took piano lessons and sang in school choirs.
During a less wholesome period of my life, I played guitar and sang in bands.
Nowadays, I listen almost exclusively to classical music. In fact, I helped start Reedsburg's first Christian and classical radio station: 89.5 FM
I still play guitar on occasion and have written a couple hymns that were not really good enough to publish.
Technology
When I became a Pastor, I was kind of a Luddite at heart. Getting an e-mail account was a big deal and, eventually, the elders even convinced me to get a cell phone.
When our website administrator left for college, I was forced to learn some coding skills. I cannot say that I enjoyed it, but bringing an artistic vision into reality is always rewarding.
Sometimes I feel like cutting the Cat5e cable and if you don't like this website, that's my fault entirely.
The punchline: I now do web design as a side job.
Hunting
Two of my annual vacation weeks are always reserved for hunting whitetail deer. I have not shot a trophy buck yet, but have always managed to fill our freezer with venison.
My sons hunt with me, we butcher our own meat in the kitchen, and I hunt with a Sako Finnlight chambered in .308. It is one of my most prized possessions.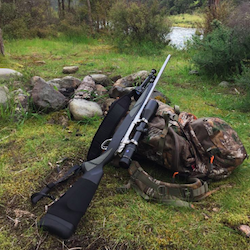 Fishing
On my days off from work in the Summer, you will usually find me in my Grumman 1649B fishing boat on one of the area lakes or rivers.
Oftentimes I fish for food (i.e., walleye, crappie, and blue gill) and sometimes I fish for fun (i.e., trying to catch Wisconsin's elusive fish of 10,000 casts).
Sailing
One of my most recent adventures was buying a small sailboat and learning to sail.
I am not particularly good at it, but I love a challenge and see great value in learning some of the "lost" arts and skills that were essential in times past. 
Since this interest began during the Covid lockdown, I'm thinking of naming my boat "Social Distance."
Life Verse
Not having been raised in an evangelical household, I did not know what a "life verse" was until someone asked me about mine. Desiring to be polite, I quickly chose this one:
And when they shall say unto you, Seek unto them that have familiar spirits, and unto wizards that peep, and that mutter: should not a people seek unto their God? for the living to the dead? To the law and to the testimony: if they speak not according to this word, it is because there is no light in them. (Isaiah 8:19-20)
That "life verse" has served me well over the years, so I suppose I'll keep it.
Idiosyncrasies
My humor is a bit dry, but I always manage to amuse myself.
I can be a bit obsessive-compulsive at times, but having six children has helped manage that.
Sometimes I feel like I was born into the wrong century (i.e., maybe four-hundred years late).
Many people love me and many people hate me. I guess that makes me a fairly "balanced" person overall.
In conclusion, I am, in many respects, just an ordinary guy and think that makes me a more effective minister. Thanks for getting to know me a bit and let me say that I would love to get to know you more. Want to go fishing?